PRL Community Brand Toolkit
Introduction
The brand toolkit contains PRL design components useful to faculty, staff, and students. This page is an extension of Michigan State University's Brand Guidelines and the College of Natural Science's Web Knowledge Base. Its goal is to present a visual language consistent with MSU's and CNS's guidelines but with added custom visual elements that distinguish and reflect the PRL's brand goals.
Why the toolkit?
A brand is perception. More specifically, it's the sum total of people's perceptions and experiences - what they think, feel, and respond to when they interact with an organization. And branding is the intentional process of shaping that perception.
Great brands build strong bonds with their audiences by being consistent. They are instantly recognizable, stand for something, and speak a common language, despite the fact that they may speak to different people.
These guidelines are for external and internal communications, including brochures, websites, advertising, invitations, direct mail, postcards, fliers, catalogs, posters, billboards, banners, video, DVD, CD, film, presentations and stationery.
Colors
The PRL color palette is monochromatic, including:
Three shades of green
A gold accent color for contrast
Two optional secondary colors
Primary Colors
Main color
HEX: #2E4D4D
CMYK: C:40 M:0 Y:0 K: 70
RGB: R=46 G=77 B=77
Bridges between CNS and MSU greens

Complementary Color
HEX: #846E28
CMYK: C:0 M:17 Y:70 K:48
RGB: R=132 G=110 B=40
Accent color for contrast
Secondary Colors
Although the PRL's palette is monochromatic, secondary colors can be introduced for delightful contrasts. These colors are subtle variations on MSU secondary colors and are more suitable for the PRL brand. However, if needed, MSU's secondary color palette can also be used.
HEX: #41304C
CMYK: C:14 M:37 Y:0 K:70
RGB: R=65 G=48 B=76

HEX: #804540
CMYK: C:0 M:46 Y:50 K: 50
RGB: R=128 G=69 B=64
MSU letterhead includes the Michigan State University wordmark at the top and the university seal in the scholar's margin. All college and department information appears within the scholar's margin. MSU's affirmative-action statement appears at the bottom of the scholar's margin (see example below).
Myriad Pro is the recommended typeface for use on all MSU letterhead. However, the Arial typeface may be substituted if Myriad Pro is not available. Use of the Arial typeface is recommended for letterhead that is sent electronically.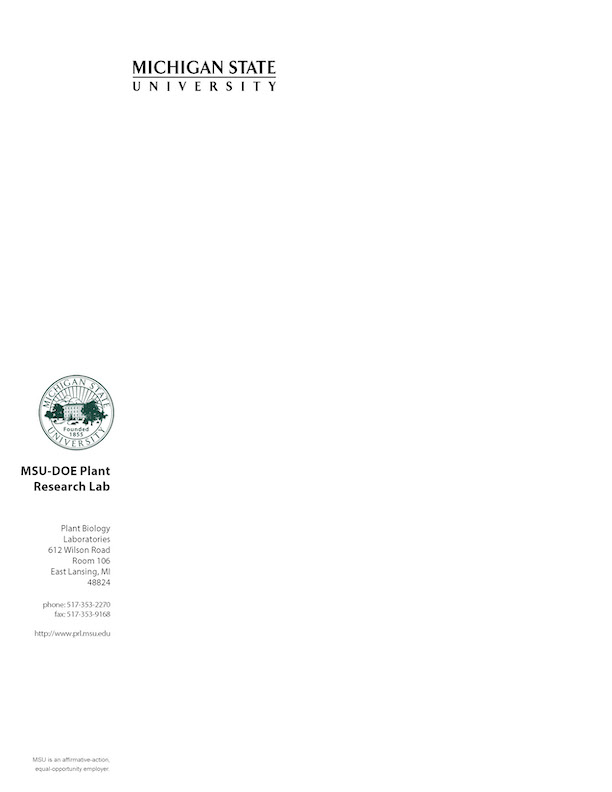 Download the PRL letterhead template.
Get usage instructions.
Logo
The PRL uses the MSU wordmark signature as specified by the MSU brand guidelines. The logo set includes color and white versions.
Don't:
Use other existing PRL logos or create new ones
Use the Spartan Helmet graphic in PRL logos
Wordmark color logo (preferred)
Download for web
Wordmark white logo
Note: The black background is only used to demonstrate the white logo. The download files contain the white logo on a transparent background.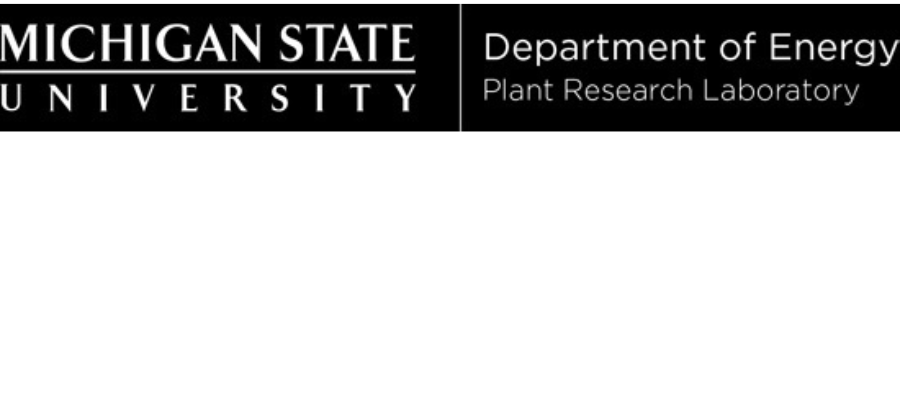 Download for print
.JPG | .PDF | .PNG
Download for web
Low-res .PNG
Wordmark black logo
Leaf logo
Note: This logo is for secondary use, the wordmark logo is preferred. The leaf logo should be used only in digital materials.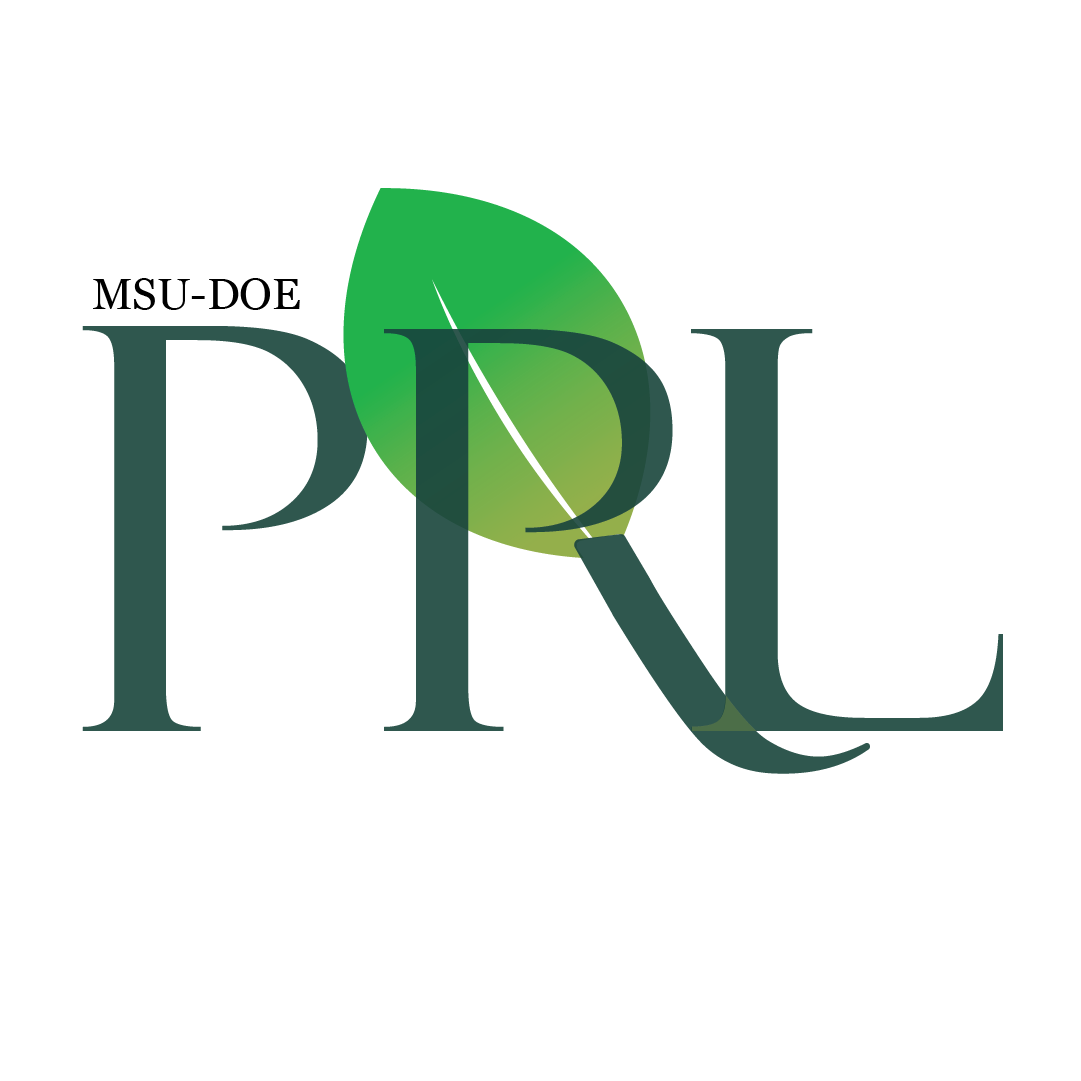 Download
White background | Circular background | Transparent
PowerPoint Template
The PRL PowerPoint Template is simple, with ample space for content. It is available in both widescreen and standard sizes. Each template includes:
Demonstration slides to showcase options, and usage instructions
Customizable footer area: PRL logo, DOE logo, page numbers, or empty footers
Multiple options for title slides
Customizable areas for media and content
All slides available in light and dark backgrounds
Standard Size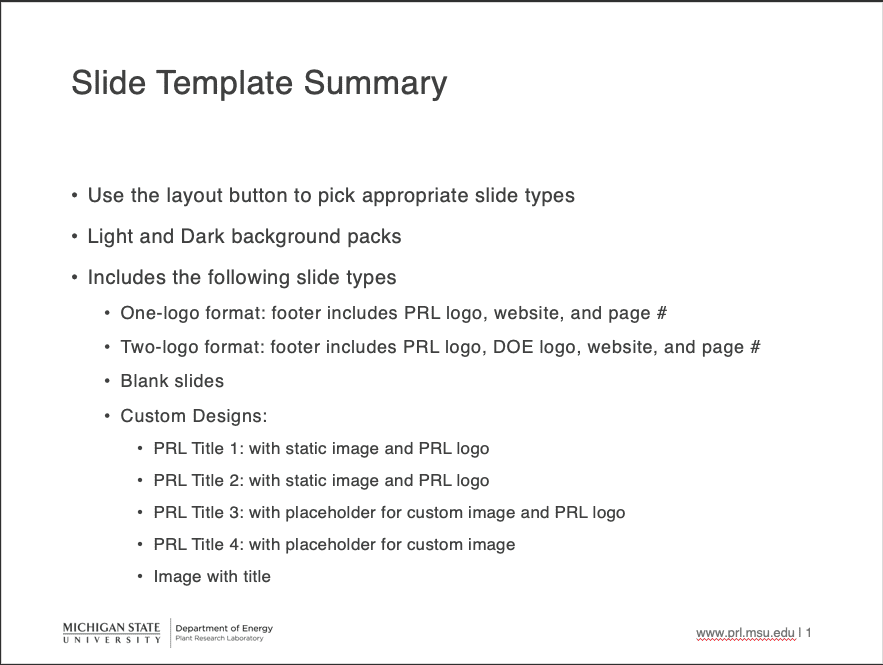 Download file
Widescreen Size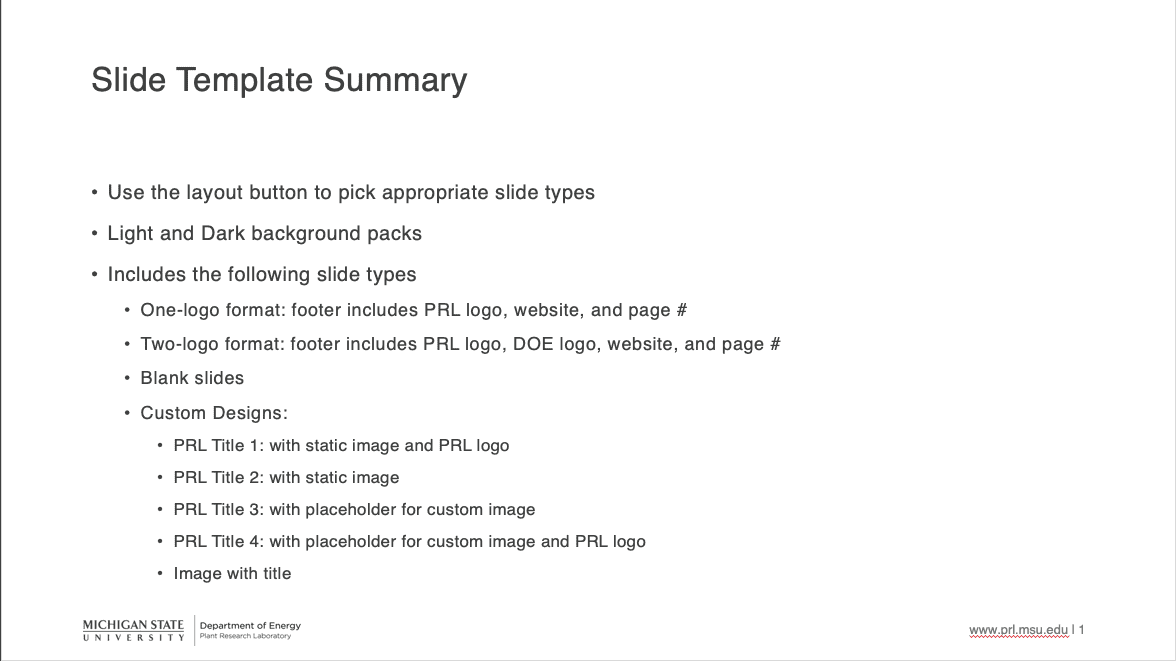 Download file
Typography
Primary font: Gotham (sans serif)
Typography choices say a lot about an organization, often before the actual words are read. The Gotham (sans serif) type family chosen by MSU has many weights and has the flexibility to feel sophisticated yet approachable, modern yet classic (see usage examples).
Secondary font: Californian (serif)
Californian is a bold, classic typeface that takes its cues from the ancient Spartans and reflects MSU's epic, heroic quality. It is recommended as an alternative to Gotham for headlines and small blocks of text. It is only allowed for print usage.
Substitution fonts
Substitution fonts are available in commonly used programs (MS Word, PowerPoint, etc.) and are useful for PIs, grad students, and postdocs who don't have access to the primary and secondary fonts above.
Serif fonts that maximize text readability:
Helvetica (preferred)
Arial