2021 Anton Lang Memorial Award winners announced
Release Date: May 3, 2021
Evan Angelos and Hainan Zhao have been awarded the 2021 Anton Lang Memorial Award during a ceremony which took place online on Monday, April 19, 2021.
The Anton Lang Memorial Fund was established in honor of the founding director of the MSU-DOE Plant Research Laboratory (PRL), who passed away in 1996. Proceeds from the fund go towards annually supporting the Anton Lang Memorial Lecture and recognizing a graduate student and a postdoctoral research associate who exemplify the research excellence, ideas, dedication, and vision of Anton Lang.
This year's lecture was given by Dr. John Shanklin from Brookhaven National Laboratory.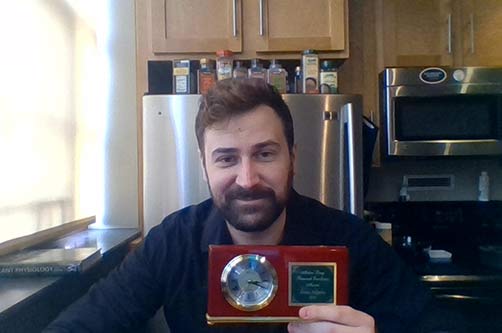 Angelos, in the lab of MSU Foundation Professor Federica Brandizzi, won the graduate student award. For his Ph.D. work, Evan has studied a diverse set of topics related to the plant unfolded protein response (UPR), a cellular surveillance and response unit needed to keep a cell's protein folding factory working properly.
Evan has explored how usually problematic reactive oxygen species can help promote a healthy UPR response in plants. In a collaboration with NASA, he has also examined the relevance of the UPR to stresses experienced by plants in space. Recently, he has been studying how the UPR is required to maintain proper organ development in plants.
"I am truly honored by this recognition," Evan says. "I've been a part of the PRL for almost ten years now, first as a visiting undergrad researcher, then as a research technician, and now as a graduate student. I would not be the scientist I am today without the guidance and training of Dr. Jonathan Walton and Dr. Federica Brandizzi, and without the opportunities this institution provides its trainees."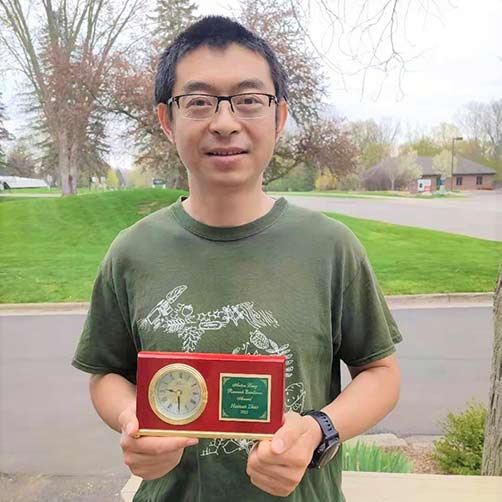 Hainan, who is in the lab of Dr. Jiming Jiang, won the postdoctoral research associate award. Hainan's research includes the identification and characterization of regulatory sequences in plant genomes like maize and Arabidopsis. He also works towards understanding the mechanisms and evolution of these regulatory sequences using modern bioinformatics approaches.
"I feel really privileged to be selected for the Anton Lang award," Hainan says. "I want the thank Jiming for his tremendous support and supervising, which paved my way to becoming a plant scientist. I also want to thank my current and previous lab mates for their generous help. They are all brilliant! It is such a great experience to work at PRL. I am always inspired by the PRL's creative and collaborative environment. Finally, I want to thank my wife for her support. I spend a lot of time on the computer, and she is the reason I've turned from a 'robot' into a 'real human being'!"
Christoph Benning, PRL Director, says, "It is always a pleasure for me to present the outstanding Anton Lang Awardees at the annual award ceremony, and I congratulate all three on behalf of everyone at the PRL."
The awardees have received an engraved rosewood piano finish clock, a cash reward, and their names have been added to a permanent award plaque located in the Plant Biology Laboratories building.
---
By Igor Houwat