2022 Anton Lang Memorial Award winners announced
Release Date: May 2, 2022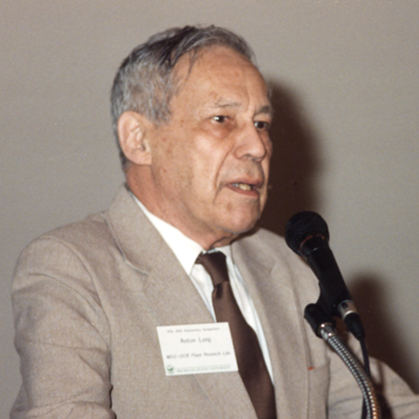 Graduate student Philip Engelgau and postdoc Peipei Wang have been awarded the 2022 Anton Lang Memorial Award at a ceremony which took place on Monday, April 25, 2022. This year's lecture was given by Professor Emeritus Govindjee from the University of Illinois at Urbana-Champaign.
The Anton Lang Memorial Fund was established in honor of the founding director of the MSU-DOE Plant Research Laboratory (PRL), who passed away in 1996. Proceeds from the fund go towards annually supporting the Anton Lang Memorial Lecture and recognizing a graduate student and a postdoctoral research associate who exemplify the research excellence, ideas, dedication, and vision of Anton Lang.
"One of the great pleasures of being director of the PRL is leading the annual award ceremony to honor the memory of our founding director Anton Lang," said Christoph Benning. "I would like to congratulate the 2022 awardees, graduate student Philip Engelgau and postdoc Peipei Wang for their outstanding accomplishments and wish both all the best for their future careers. And I congratulate Professor Govindjee for his recognition as the 2022 Anton Lang Lecturer. Professor Govindjee gave an inspiring lecture revisiting some of the major milestones in the history of photosynthesis reminding us of the joy of scientific discovery."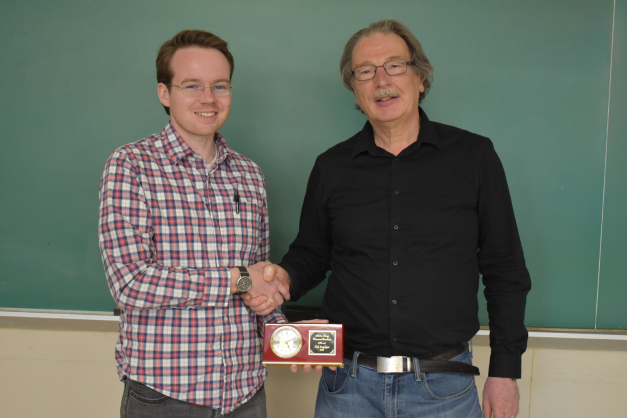 Philip Engelgau
Philip Engelgau is the 2022 recipient of the Anton Lang Graduate Student award. He is a graduate student in the lab of Professor Randolph Beaudry and the Department of Horticulture and Molecular Plant Sciences (MPS) program.
Philip's Ph.D. work looks at the regulation and biosynthesis of aroma volatiles, the compounds we can smell, that are produced by apple and banana fruits. He also studies ways to extend the shelf-life of asparagus and the properties of various formulations of 1-methylcyclopropene, which is an important postharvest chemical that is used to slow ripening.
"I am extremely honored and appreciative to have won this award," Philip said. "While there are many people who have helped me, I am particularly grateful to my advisor, Dr. Randy Beaudry, who throughout my graduate student career has advocated for and facilitated opportunities to enhance my education far beyond routine lab work. This has included supporting projects that engage with industry partners as well as those that involve extension agents, allowing me to gain perspectives beyond what I may otherwise have in a purely academic research environment."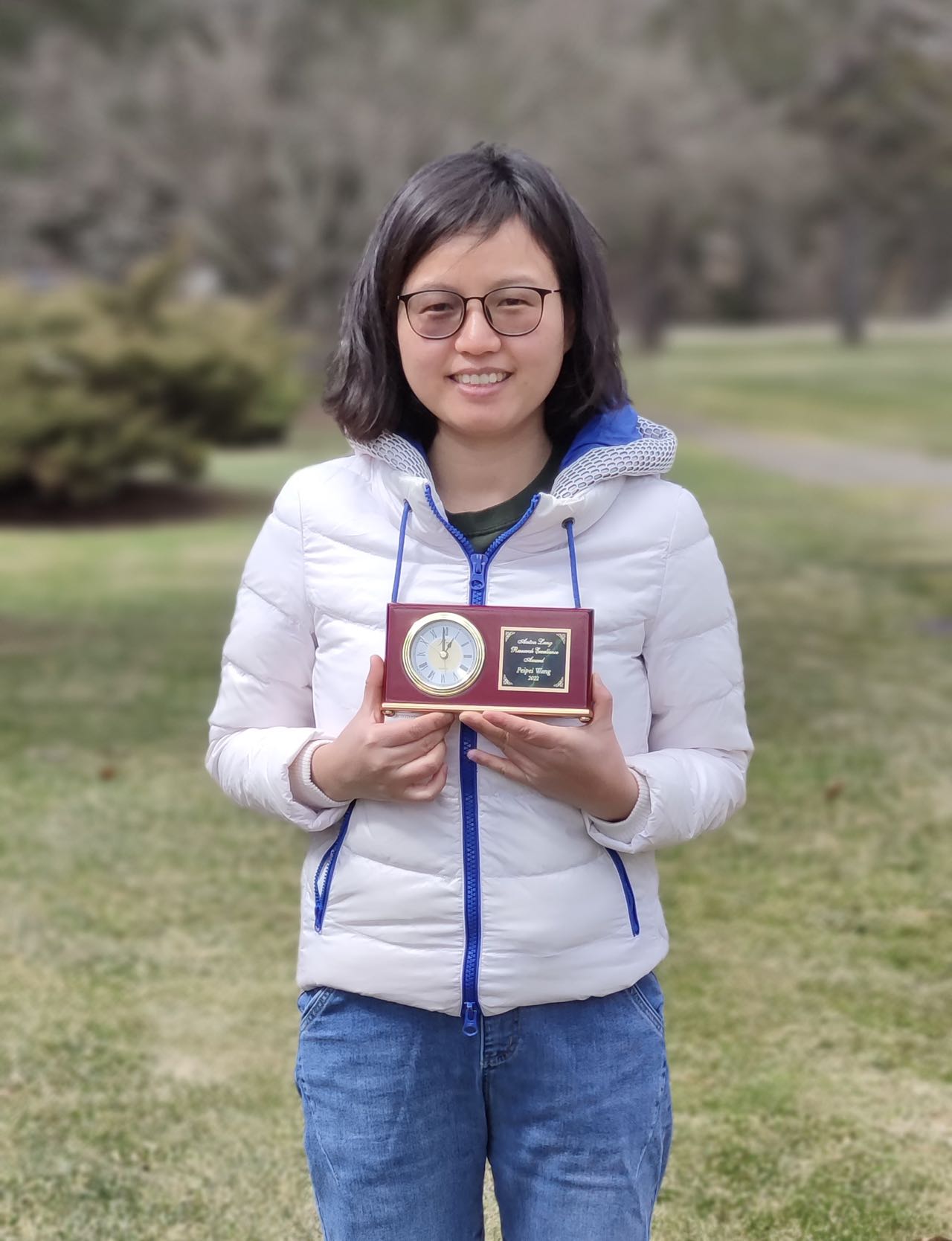 Peipei Wang
Peipei Wang is a postdoctoral researcher in Shinhan Shiu's lab and this year's recipient of the Anton Lang Research Associate Award. Her research includes the understanding of plant genome evolution, prediction of plant metabolic pathway genes, application of machine vision to measure plant fitness traits and prediction of plant traits using genetic information.
Peipei is headed to Foshan Kunpeng Modern Agricultural Research Institute, Chinese Academy of Agricultural Sciences at the end of April 2022, where she will continue her research, focusing on understanding the molecular basis underlying important horticultural traits.
"I am extremely honored to be selected by PRL for this award," Peipei said. "I feel so lucky that I joined Shiu's lab and this enlightened and collaborative environment six years ago. Many thanks to Shinhan's great advising and support in both sciences and life. I would also thank my lab mates and colleagues for their generous helps and the fruitful collaboration. Thanks to my family and friends for their support!"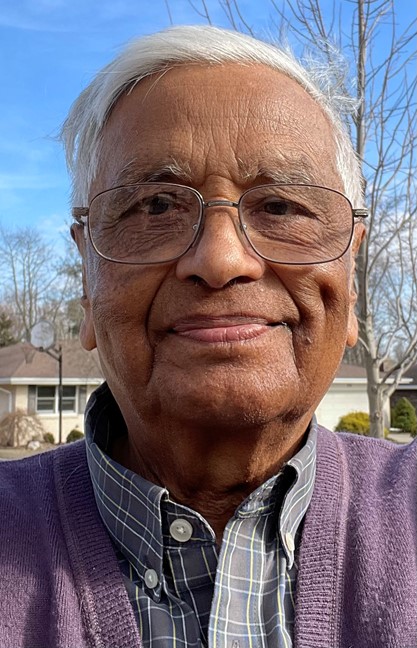 Govindjee
Govindjee has been a professor emeritus of Biochemistry, Biophysics and Plant Biology at the University of Illinois at Urbana-Champaign since 1999. He taught at the university from 1961 to 1999.
His talk was titled "A Journey for Photosynthesis in Urbana with a focus on Robert Emerson." Robert Emerson was Govindjee's Ph.D. mentor until his untimely death in 1959. Emerson was a renowned photosynthesis researcher, having discovered the photosynthetic unit, the minimum quanta needed per oxygen molecule, the Red Drop effect and that plants have two photosynthetic reaction centers.
The presentation went on to cover the history of the scientists who made some of the biggest discoveries in the study of photosynthesis, starting from the 1950s when Govindjee himself was beginning his studies. His lively and often humorous commentary accompanied by archival photos he took brought the history and people behind the science to the forefront.
Govindjee himself is an acclaimed photosynthesis researcher, best known for his work on the exploitation of light emission to understand and predict photosynthesis. Another major contribution to the field includes the establishment of the unique role of bicarbonate on the electron acceptor side of Photosystem II.
"I was highly thrilled to have been chosen by MSU to deliver the highly prestigious 2022 Anton Lang Lecture, since I have had the highest regard for his life and contributions," Govindjee said. "It was really a great pleasure to present the discoveries and stories of two top pioneers of photosynthesis, Robert Emerson (1903-1959) and Eugene Rabinowitch (1898-1973): My own mentors. In addition, in my talk, I pointed out that even Nobel laureates could be (and) have been wrong. Finally, it was thrilling for me that I could interact, directly or indirectly, on stories related to the evolution of the Z-Scheme of photosynthesis with many.
"I thank a large number of friends including Christoph Benning, Robert Blankenship, Julian Eaton-Rye, Rajni Govindjee, Dave Kramer, Don Ort, Tom Sharkey, and Josh (& Wim) Vermaas, for their constant support."
The awardees have received an engraved rosewood piano finish clock, a cash reward, and their names have been added to a permanent award plaque located in the Plant Biology Laboratories building.
---
By Kara Headley