Beronda Montgomery awarded prestigious AAAS Fellowship
Beronda Montgomery was among four Michigan State University faculty members to be named a Fellow of the American Association for the Advancement of Science (AAAS).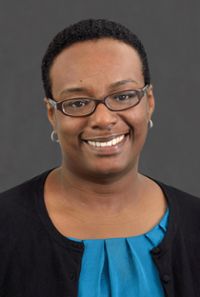 AAAS Fellows have been elevated to this rank because of their efforts toward advancing science applications that are deemed scientifically or socially distinguished. This lifetime honor comes with an expectation that recipients maintain the highest standards of professional ethics and scientific integrity.
Montgomery, a MSU Foundation Professor in the College of Natural Science who is a MSU-DOE Plant Research Laboratory (PRL) faculty member and who holds joint appointments with the Departments of Biochemistry and Molecular Biology (BMB) and Microbiology and Molecular Genetics (MMG), was awarded for her distinguished contributions to plant biology and microbiology, particularly using photobiological analyses to investigate physiological and morphogenic adaptation of photosynthetic organisms.
"Although such honors come in my name, the professional advances lauded arise from my leading a committed, creative and successful team, as well as working within a community including collaborators and supporters," said Montgomery. "I'm thankful to each of the individuals past and present that I've had an opportunity to engage on my path."
"I am delighted about Professor Montgomery's selection as an AAAS Fellow, reflecting her outstanding contributions to her fields of research," said Christoph Benning, PRL director. "I would like to congratulate her on this honor on behalf of all PRL members."
Montgomery's research interests include biosynthesis and biochemical function of biliproteins in photosynthetic organisms; intercellular phytochrome signaling; light-dependent regulation of morphology; photobiology; molecular genetics; biochemical genetics; physiology; and evidence-based mentoring and leadership for promoting equity.
"This is another excellent accomplishment by Dr. Montgomery," said Erich Grotewold, BMB chair. "This award reflects her many achievements as a researcher and scholar and we want to congratulate her."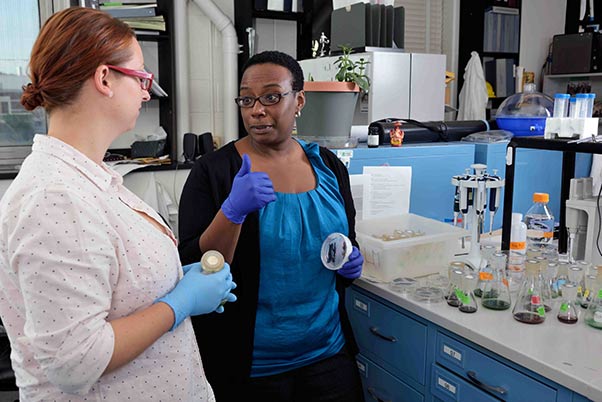 Montgomery joined MSU in 2004 following a postdoctoral research fellowship at Indiana University. She earned her Ph.D. in plant biology at the University of California, Davis, after completing a master's degree at the University of Central Arkansas and a bachelor's degree at Washington University. Her honors include being elected to the American Academy of Microbiology in 2018 and she recently was named one of Cell Press CrossTalk's 100 Inspiring Black Scientists. These accolades, along with her extensive publications, make her a well-regarded leader in her field.
"Beronda is an exceptional biologist exploring innovative questions in her research," said Victor DiRita, MMG chair. "Along with the knowledge she uncovers in the lab, teaching us about interesting biology, her keen, thoughtful insights on mentoring have taught us to be better lab directors, colleagues, and allies."
AAAS is the world's largest general scientific society and publisher of the journal Science, as well as Science Translational Medicine, Science Signaling — a digital, open-access journal — Science Advances, Science Immunology and Science Robotics.
The tradition of AAAS Fellows began in 1874. Currently, members can be considered for the rank of fellow if nominated by the steering group of their respective sections, by three fellows or by the Association's chief executive officer.
Each steering group then reviews the nominations of individuals within its respective section and forwards a final list to the AAAS Council. The AAAS Council votes on the final aggregate list.
This year's AAAS Fellows will be formally announced in the AAAS News & Notes section of the journal Science on Friday, Nov. 27. A virtual induction ceremony for the new fellows will be held on Saturday, Feb. 13. New fellows will be presented with an official certificate and a gold and blue — representing science and engineering, respectively — rosette pin to commemorate their election.
For additional information about AAAS, see www.aaas.org.
---
By Jeff Mason, Val Osowski