CURE at MSU: Bringing the laboratory experience to undergraduate classrooms
Researchers are integrating their work into undergraduate cell and molecular biology laboratory courses at Michigan State University through the use of Arabidopsis mutant screenings.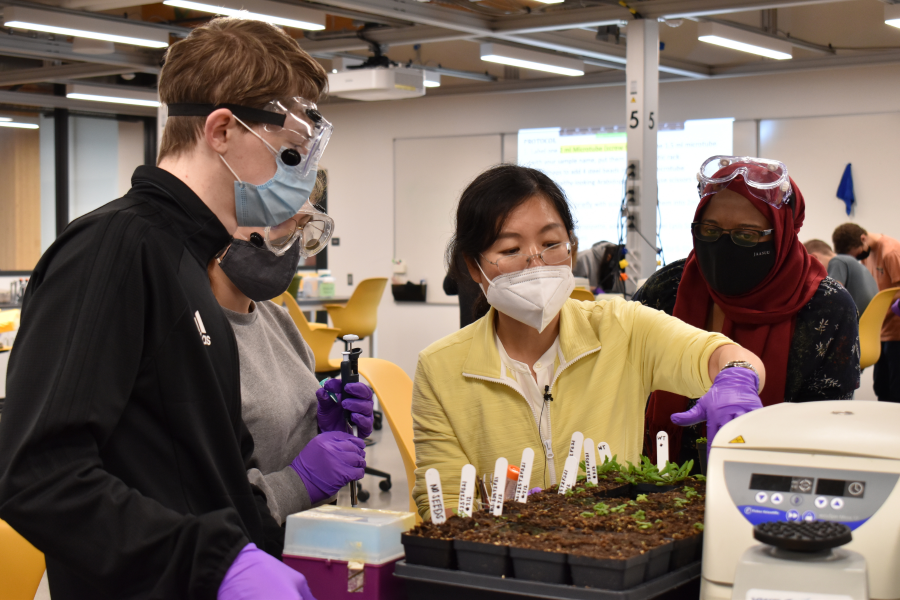 Jinjie Liu, an assistant professor in the Biological Sciences Program, is collaborating with the Benning lab at the MSU-DOE Plant Research Laboratory (PRL) on research looking for suppressor mutants in Arabidopsis plants. Their goal is to figure out how the molecules derived from chloroplast lipids are transported or perceived by the plant and finally trigger plants responses such as stunted growth and more pigments due to hormone imbalances. The concepts and techniques covered in the research project make it a great teaching model for students. A paper on this collaboration was published in "Biochemistry and Molecular Biology Education."
In 2018, Jinjie designed a laboratory course for undergraduate students that would take the research from the Benning lab and translate it into a CURE – a Course-based Undergraduate Research Experience.
"CUREs are great models to bring ongoing research projects into the learning community," Jinjie said. "I appreciate the opportunity of developing a cutting-edge research project into a laboratory course and implementing it in the classroom. With this approach, the students have a deeper understanding of the concepts they learn by putting them into practice. It has been great working closely on this project with the Benning team and with Jon Stoltzfus, director of the MSU Biological Sciences Program."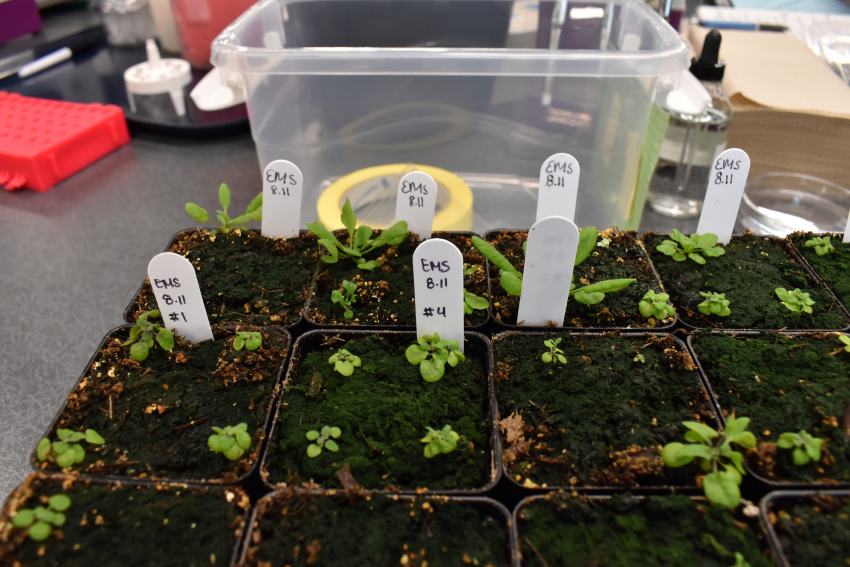 This CURE is on its fifth semester at MSU. Each semester, the course changes slightly to reflect the work happening in the Benning lab. The students begin the research in the classroom, and the Benning lab continues to build on this once the semester is over.
"I have a lot of experience teaching and mentoring undergraduate students in my lab and in a classroom setting," said Christoph Benning, director of the PRL and University Distinguished Professor of biochemistry and molecular biology. "Having students engage in an ongoing research project developed in my lab has been very gratifying, taking my teaching experience to another level. It also was a novel experience to report the development of this CURE project and its benefits in a recent paper. I am grateful for the collaboration with Jinjie Liu and Jon Stoltzfus."
The research project is part of the thesis work conducted by Ron Cook, a graduate student in the Benning lab, the Biochemistry & Molecular Biology program and the Molecular Plant Sciences program.
"This was a great opportunity to work with Jinjie and to get to know students who are interested in research," Ron said. "It has been useful for discovering promising mutants in plant hormone metabolism and signaling, and for recruiting promising undergrads to be involved in research at the PRL."
Jinjie's passion for teaching her students is unmistakable to anyone who hears her discuss working with students and witnessing them learn and grow.
"Watching as my students learn is the best part," Jinjie said. "Some come in without much laboratory experience and seeing their progress at the end of the course is amazing."
This material is based upon work supported by Michigan State University; MSU AgBioResearch; MSU Foundation; MSU College of Natural Science; Division of Chemical Sciences, Geosciences and Biosciences, Office of Basic Energy Sciences of the United States Department of Energy (Grant DE-FG02-91ER20021); and the MSU Training Program in Plant Biotechnology for Health and Sustainability.
---
By Kara Headley; Banner image by Kara Headley