From plant cells to human cells: A Brandizzi lab student success story
Release Date: Jul 5, 2023
Article Highlights
Allen Trevizo is a recent MSU graduate who now works in the Doseff lab as a professional aide
During his undergraduate career, he worked at the PRL Brandizzi under postdoc Graham Burkart
In his new role, Trevizo is working with a flavonoid found in celery that can potentially be used to treat breast cancer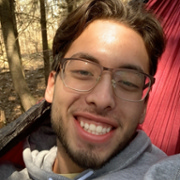 Allen Trevizo, a recent Michigan State University (MSU) grad from both the Biochemistry & Molecular Biology and Genomics & Molecular Genetics undergraduate programs, started his career path with dental school in mind, a far cry from where he is today. As he progressed in his undergrad career, he realized his calling lay elsewhere.
Trevizo joined the Brandizzi lab at the MSU-DOE Plant Research Laboratory as an undergraduate research assistant in the spring of 2022. Working with postdoc Graham Burkart, Trevizo learned technical skills like molecular cloning, protein expression and purification, and database research. He was also able to practice many general lab skills like collaboration, timing experiments and keeping his momentum going through long days and frustrating outcomes.
Working with Burkart was Trevizo's first opportunity to work in a lab setting and fed his curiosity for molecular work. Trevizo also learned the importance of working with a good mentor.
"When you are a student, your growth is directly correlated to your mentor. If you have a good mentor, your growth is exponential." Trevizo knows his time with Burkart has helped him grow, and he has stated he's grateful that people like Burkart exist.
"He has the mind for research," Burkart said of his former mentee. "His enthusiasm and passion are what stuck out the most to me. Those things will take him where he wants to go in life."
After graduating in spring of 2023, Trevizo's new path led him to the Doseff lab in the Department of Physiology at MSU. As a professional aide, Trevizo works with graduate students and postdoctoral students working with proteins, cloning and RNA. Generating data and making sense of it is something he found a passion for at the Brandizzi lab.
In his new role, Trevizo is working with a flavonoid found in celery that can potentially be used to treat inflammatory diseases including breast cancer. He is also working in the area of plants and foods for health by studying how plant metabolites regulate the inflammatory response in humans.
"Helping humanity motivates me," he said. To do that, Trevizo wants to be in the forefront of the biotechnology world. "I want everyone to have access to biotechnology, more specifically, gene therapy."
The idea of human access connected to the Brandizzi lab as well where Trevizo was surrounded by research pertaining to improving crop yield.
Trevizo strives to one day run his own biotechnology company that focuses on genetic engineering and gene therapy. He feels his time at the Brandizzi lab was a platform that he could jump off and land among the stars.
"I will always be grateful for this place."
---
By Amber Wise; Developmentally edited by Kara Headley