Gutter Ball 26: Erik Durfee claims second championship
Release Date: Jun 16, 2022
Tags:outreach
Gutter Ball Returns!!! Friday, June 3, 2022, the City Limits Bowling Center saw the RETURN of Gutter Ball 26! After a two-year hiatus, over 60 bowlers fought tooth and nail for the chance to win the prestigious title of "Gutter Ball 26 Champion."
When the last pin tumbled into the gutter, Erik Durfee, a former Gutter Ball Champion (2012), was once again crowned this year's Gutter Ball Champion. Erik, the husband of our beloved Starla Zemelis-Durfee, dominated lane 16, with scores of 203 and 204! What a spectacular demonstration of bowling talent. Currently, Erik is a mechanical design engineer at Dart Container; however, after this outstanding bowling performance, maybe a career change is in order.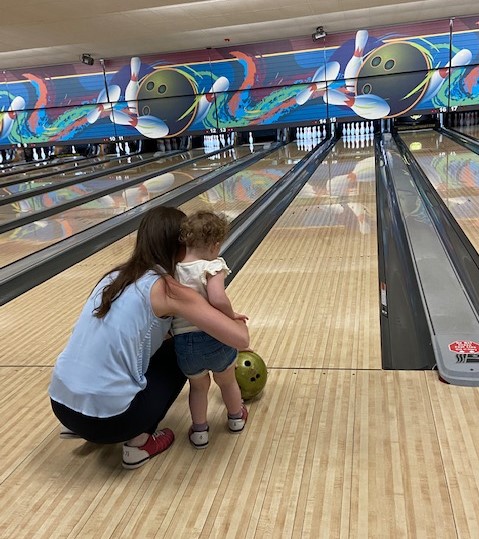 Not too surprisingly, the bowling talent runs deep in the Durfee household. While Starla and Erik both made an admirable showing at this year's bowling event, it was Zaya (their daughter who is not quite two years old) who really stole the show by posting a score of 77! Watch out mom and dad, I think a Zaya "Gutter Ball Championship" is not too far off in her future! So, Congrats Erik, Starla and Zaya!
Finally, I would like to thank ALL the bowlers who came out this year and made GUTTER BALL 26 a very, very, special event! Your collective enthusiasm could be felt across the sixteen lanes we occupied that evening! THANK YOU ONE and ALL!! See you next year.
Previous Gutter Ball Champs:
John Froehlich (2003, 2006)
Ken Keegstra (2004, 2007)
Jon Glynn (2005)
Jackson Gehan (2008)
Robin Harris (2009)
Katie Cabot (2010)
Andy Scollon (2011)
Erik Durfee (2012, 2022)
Matt Oney (2013)
Henrik Tjellstrom (2014)
Tony Schilmiller (2015, 2016)
Eric Young (2017)
Lee Alexander (2018)
Tony Schilmiller (2019)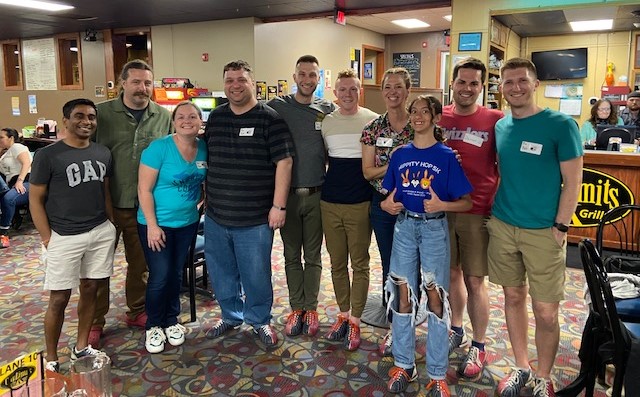 The Brandizzi lab bowling teams.
By Amber Wise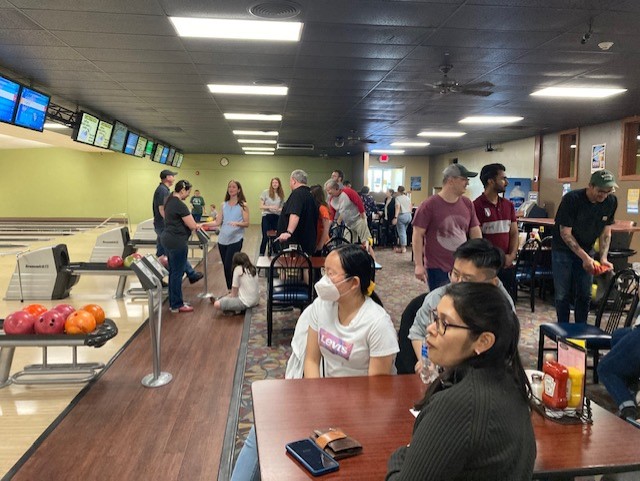 By Linda Danhof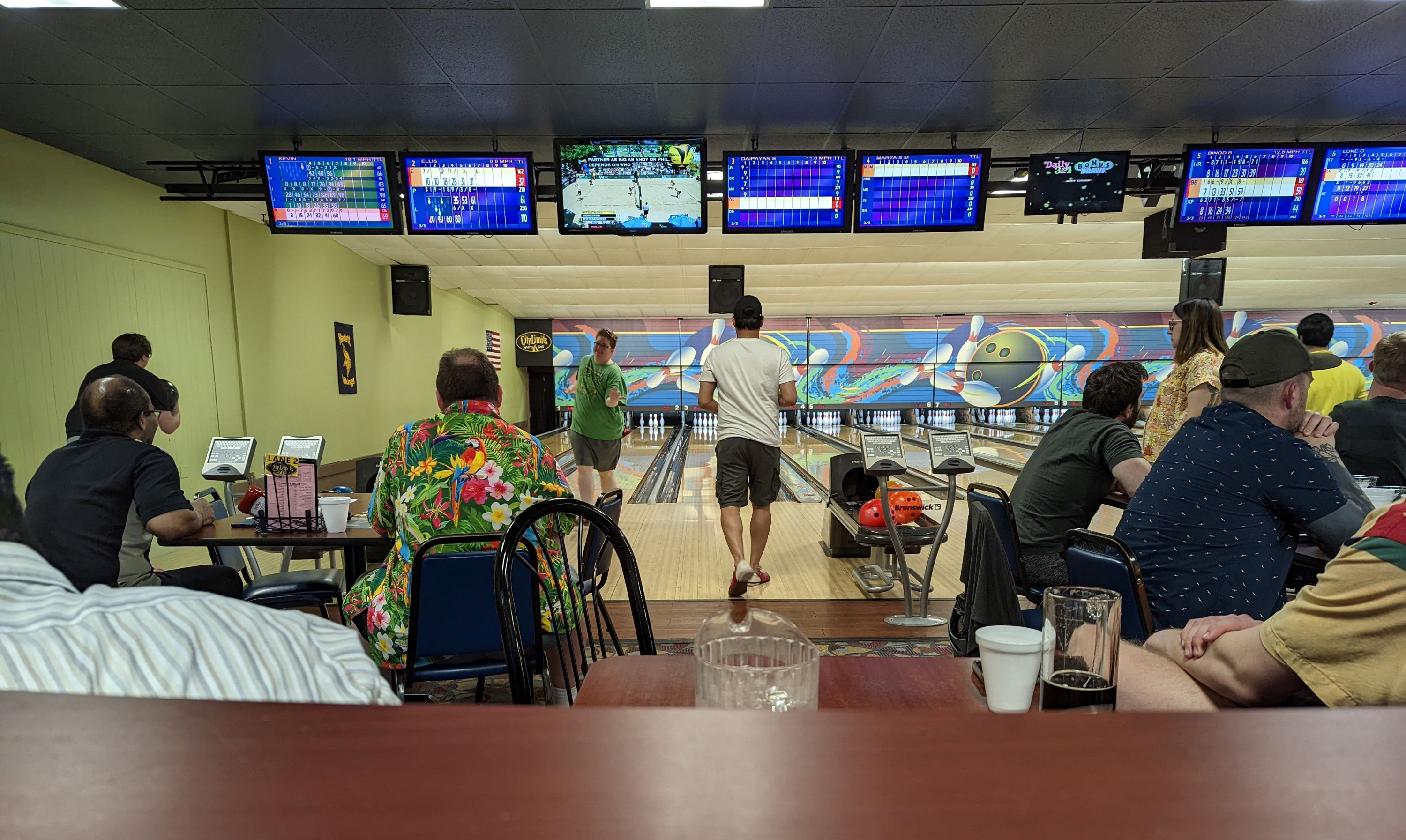 By Josh Vermaas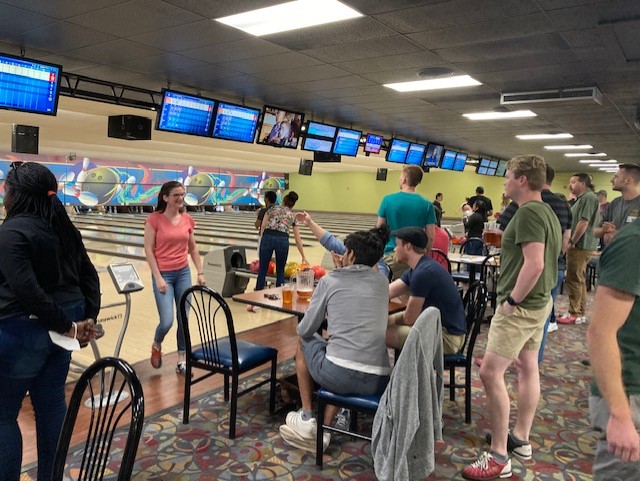 By Linda Danhof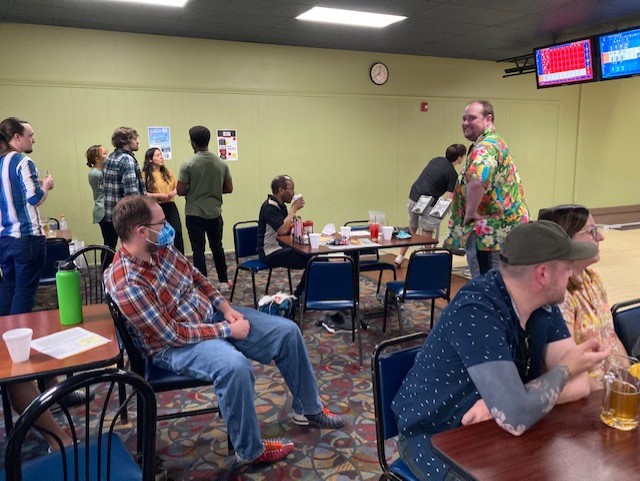 By Linda Danhof
---
By John Froehlich; Banner by Linda Danhof