Inaugural EHS Laboratory Safety Awards recognizes NatSci laboratories
Ten Michigan State University laboratories were acknowledged by the Office of Environmental Health and Safety (EHS) as a part of their inaugural Laboratory Safety Recognition Awards this year.
The Walker Lab at the MSU-DOE Plant Research Laboratory (PRL) and the Investigative Histopathology Laboratory in the Department of Physiology are among five laboratories from the College of Natural Science that were honored for maintaining a safe and clean working environment.
Walker Lab: Outstanding Lab
For the Walker Lab, the Laboratory Safety Certificate of Recognition award came as a complete surprise.
Audrey Johnson, lab manager for the Walker Lab, had been prepared the day of the lab's EHS inspection to work with a member of EHS, giving them a tour of their facilities.
When the inspector arrived, it was a lab effort in showing them around. Berkley Walker, PI of the lab, found the visit to be a collaborative and educational experience for both him and his lab members.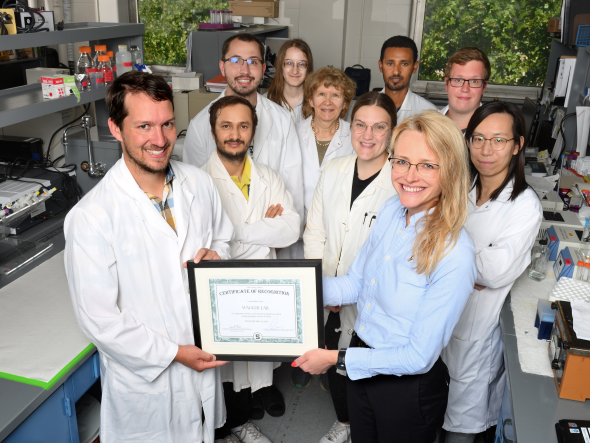 Laura McCabe, associate vice president in the Office of Research and Regulatory Support, wrote to the lab that EHS was impressed by the community effort the lab showed in making it a safe workplace for all.
"This cohesive behavior demonstrated the type of relationship EHS wants to build with the research community to create a strong safety culture," she wrote.
Walker says that his lab manager, Audrey Johnson, is in no small part to thank for this recognition. She has shown her willingness to go above and beyond in lab safety, following not only EHS guidelines, but national and international lab safety guidelines as well.
"Lab safety is important because it allows people to focus on what they need and want to do in the lab without worrying they will be injured," Johnson said. "It's the basic citizenship of making sure that the people around you aren't adversely affected by your actions."
Walker added, "This recognition shows that the PRL can set people up for success doing a lot of different things. It's a place where you can forge relationships and move on to other positions or stay here if this is where you want to be. I think this award illustrates how there are those possibilities at the PRL."
Histopathology Laboratory: Outstanding MSU Core Facility
Amy Porter knows the importance of lab safety.
Early on in her career, she accidentally started a fire in a trashcan by improperly disposing chemicals which then combusted into flames. While it was quickly extinguished and no one got hurt, it taught Porter a valuable lesson.
"I'm very conscious now about waste disposal and how it is handled," said Porter who is the MSU Department of Physiology supervisor histotechnician for the Investigative Histopathology Laboratory. "Everyone thinks I'm crazy, but when you throw something in the trashcan and your back is turned then someone yells 'Fire!'; that's an imprint on your brain for the rest of your life."
And perhaps for good measure, too.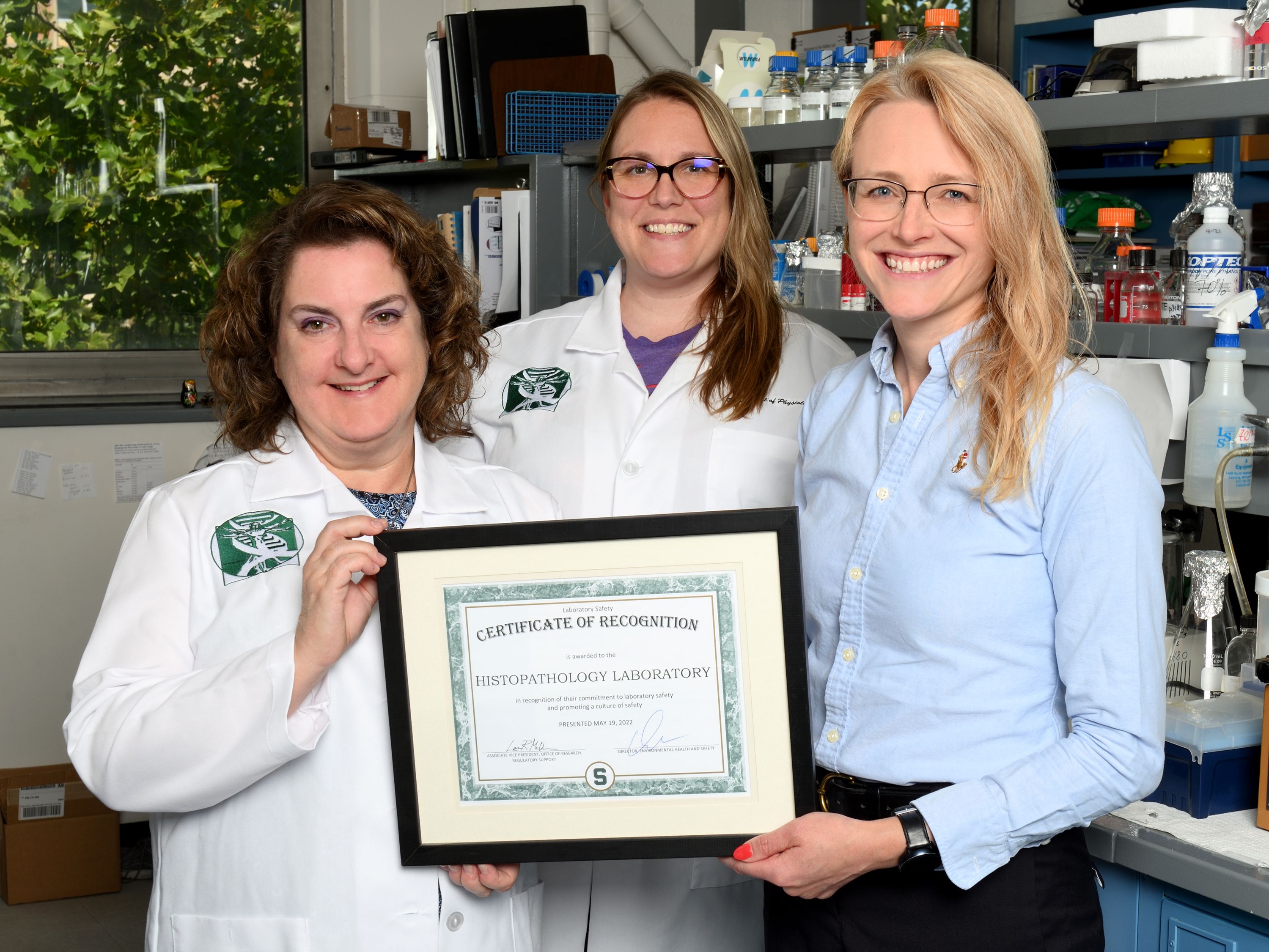 Recently, the Investigative Histopathology Laboratory under Porter's supervision was honored by EHS during its inaugural Lab Safety Recognition Awards for Outstanding MSU Core Facility. Despite the large volume of samples that comes through its lab space, Porter and histotechnician JessieLee Neuman were praised for their management and handling of various chemicals, tissue samples and waste disposal. There are approximately 33 other core facilities on campus.
"It's nice to be recognized for something that promotes safety," said Porter who has worked at MSU for 31 years. "We're here to protect us and the university. If EHS wants me to do something, they have a good reason. I try and comply and make it a safe place to work."
Born and raised in Lansing, Michigan, Porter was always drawn to the field of science. After graduating from Holt High School, she studied histology at the former Capital Area Career Center (now known as the Wilson Talent Center) in Mason, Michigan.
"Science affords you the opportunity to learn something new every day," Porter said. "It is beneficial to the community as it relates to health. You're aiding people and doing research and hoping to make a better place."
The Investigative Histopathology Laboratory currently provides laboratory services for the university as well as outside clients. Porter says about 80 percent of its clients are affiliated with MSU with other academic institutions, non-profits and private businesses making up the remaining percentage.
Read about the eight other labs on campus who received EHS Laboratory Safety Awards.
---
By Kara Headley and Tyler Lee; Banner image by Harley Seeley