MSU and Rajarata University of Sri Lanka awarded Asian Development Bank grant
Michigan State University (MSU) and Rajarata University of Sri Lanka have been awarded a $250,000 grant by the Asian Development Bank (ADB).
Dr. Chathuranga Bamunurachchige is the project lead on the Rajarata University side, while the MSU team is led by Drs. David M. Kramer, Brad Day, Atsuko Kanazawa, and Saroopa Samaradivakara. Scientists from both universities will together conduct a series of transdisciplinary activities in the area of smart agriculture, ranging from fundamental genomics and chemistry, to student training and curriculum-based activities.
"I'm overwhelmed by the enthusiasm and the involvement of the MSU colleagues, Brad, Dave, Atsuko and especially Saroopa in developing a mere thought into a winning project under this extremely competitive ADB, STHRD grant scheme for collaborations with a renowned university," says Bamunurachchige. "Hopefully this grant would provide an opportunity to learn from the traditional practices and take the knowledge to the next level through cutting edge technology!"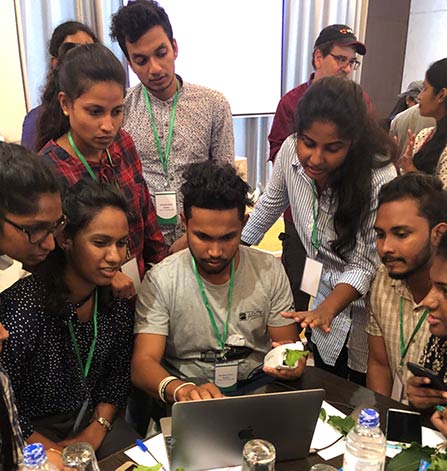 The grant award is part of the ADB's Science and Technology Human Resource Development Project, which supports Asian and Pacific universities in their efforts to establish partnerships with renowned foreign universities in areas such as, faculty or student exchange programs, innovative teaching and learning at higher education, and joint research activities, especially in industry relevant areas.
"I am very excited to not only begin the multidisciplinary research funded by this grant, but I also look forward to continuing my interactions with many great colleagues in Sri Lanka," says MSU Foundation Professor, Brad Day. "We're looking forward to seeing where this research and collaboration takes us. Sri Lanka has a level of expertise and enthusiasm for applying fundamental research discovers that is second to none!"
One of the new technologies that will be employed on the project is PhotosynQ, a cloud-based platform developed in MSU's Kramer lab that aims to create a global, open access dataset of plant activity. PhotosynQ relies on a hand-held device to measure plant health at a fundamental level in the field and collect data across the world. Collected data is stored in the cloud, where it can be processed through a suite of data analysis tools.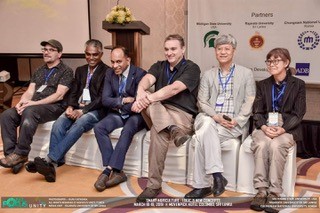 "I am thrilled to be a part of this collaboration between MSU and my home country!" says Samaradivakara, who is a postdoc in the lab of Brad Day. "At MSU, we are currently working on the USDA funded project on the development of PhotosynQ platform integrated point of contact pathogen detection method. I look forward to sharing and expanding this platform with the students of Rajarata University."
While the current grant represents the first ADB project between MSU in Sri Lanka, it continues a long and successful history of collaboration between MSU and Sri Lankan institutions. In this case, the grant follows the establishment of a memorandum of understanding between MSU and Rajarata University in 2019.
"Some of us at MSU had a rare opportunity to visit Sri Lanka for a conference and a workshop using the PhotosynQ platform," says Kanazawa, Research Assistant Professor. "It was truly impressive to witness that the students from Rajarata University took the initiative. They ran the show! Now with Saroopa, our native Sri Lankan colleague here, it will be a great exchange of science and education."
"I'd like to add that I am especially impressed with the strength, excitement, and tenacity of these students," adds Kramer, who is a Hannah Distinguished Professor In Photosynthesis And Bioenergetics. "They were amazing when we met them, and they have kept this excitement through some difficult political and social situations in Sri Lanka, including the COVID-19 pandemic."
---
By Igor Houwat. Banner image of Dr. Kramer demonstrating the PhotosynQ platform to students from Rajarata University. Photo by Brad Day.