MSU Foundation Professor selected as Science Defender by Union of Concerned Scientists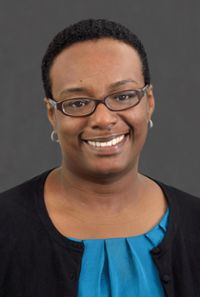 Michigan State University's Beronda Montgomery, an MSU Foundation Professor, was one of five individuals nominated by the Union of Concerned Scientists (UCS) as a 2020 Science Defender.
Montgomery, who holds joint appointments in the Department of Biochemistry and Molecular Biology, and Department of Microbiology and Molecular Genetics in the MSU College of Natural Science (NatSci), was cited for her "incredibly important work . . . to ensure that science benefits the common good."
"It is wonderful to see this high level-recognition of the outstanding work that Professor Montgomery has been doing at MSU and in the broader plant sciences community," said Phillip Duxbury, NatSci dean. "Her stature as a leader in research and in promoting inclusive science is invaluable."
"This honor, in this particular year, is especially meaningful, as a need for 'voices for science' is more important than ever," said Montgomery, who is also a faculty member in the MSU-DOE Plant Research Laboratory. "A consistent call for us to improve our ability to open paths of access and success for scientists from all backgrounds remains critical and urgent."
Montgomery is specifically recognized for her work as the co-organizer of the first Black Botanists Week, which was held July 6 – 11. The goal of Black Botanists Week is to "promote, encourage, create a safe space for, and find more Black people (and BIPOC) who love plants." Because of its success, Montgomery and her colleagues are collaborating with Holden Forest and Gardens in Ohio for a year-long lecture series, "Growing Black Roots: A Black Botanical Legacy," and are already planning for the 2021 Black Botanists Week.
In addition, Montgomery's published work— including articles and commentary in Plant Cell and Nature Microbiology—has stimulated public-facing conversations about equity in science and higher education.
The Union of Concerned Scientists puts rigorous, independent science to work to solve our planet's most pressing problems. Joining with people across the country, UCS combines technical analysis and effective advocacy to create innovative, practical solutions for a healthy, safe, and sustainable future.
For a complete list of 2020 Science Defenders, visit https://www.ucsusa.org/resources/2020-ucs-science-defenders.
---
This story was originally published in the College of Natural Science newsroom.