MSU's Beronda Montgomery named an ASBMB Fellow
Michigan State University's Beronda Montgomery is the recipient of a 2022 American Society for Biochemistry and Molecular Biology (ASBMB) Fellow Award.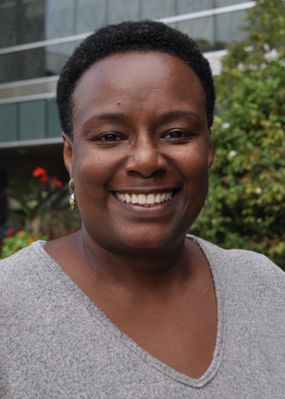 Montgomery is an MSU Foundation Professor in the College of Natural Science who holds joint appointments in the Departments of Biochemistry and Molecular Biology (BMB) and Microbiology and Molecular Genetics (MMG) and is an MSU-DOE Plant Research Laboratory (PRL) faculty member. She also serves as interim assistant vice president in the Office of Research & Innovation at MSU.
Designation as an ASBMB Fellow recognizes outstanding commitment to the organization through participation in the society in addition to accomplishments in research, education, mentorship, diversity and inclusion, advocacy, and service to the scientific community. This is the second year the society has selected fellows. The program began in 2021 with an inaugural cohort of 30 people. Twenty-eight members have been recognized with the designation this year.
"Beronda has made outstanding contributions to the science of light perception by plants and cyanobacteria and has devoted herself to the science of mentorship," said Christoph Benning, PRL director. "Through her service, she has extensively contributed to the core mission of ASBMB. I congratulate her on behalf of all at the MSU-DOE Plant Research Laboratory to being named an ASBMB Fellow."
"Many congratulations to our 2022 fellows," said Judith Bond, former ASBMB president and member of the Membership Committee which developed the fellows program. "You make our society strong, provide leadership, contribute to the core missions of the society, and honor us by your participation in society activities."
This year's cohort of fellows will be recognized at the 2022 ASBMB Annual Meeting, which will be held in person in April in Philadelphia in conjunction with the Experimental Biology conference.
The ASBMB was established in 1906 and is one of the largest international molecular life science societies in the world. With over 11,000 members, their mission is to advance the science of biochemistry and molecular biology and to promote the understanding of the molecular nature of life processes.
---
This story was originally posted to the College of Natural Science newsroom.