MSU's Gregg Howe elected to the National Academy of Sciences
Michigan State University plant scientist Gregg Howe has been elected to the National Academy of Sciences (NAS). Founded in 1863, the NAS is one of the oldest and most prestigious scientific membership organizations in the United States.
Howe is among 120 new members and 26 international members elected to the NAS in 2020 in recognition of their distinguished and continuing achievements in original research.
He joins 10 current and emeritus MSU faculty as members of NAS.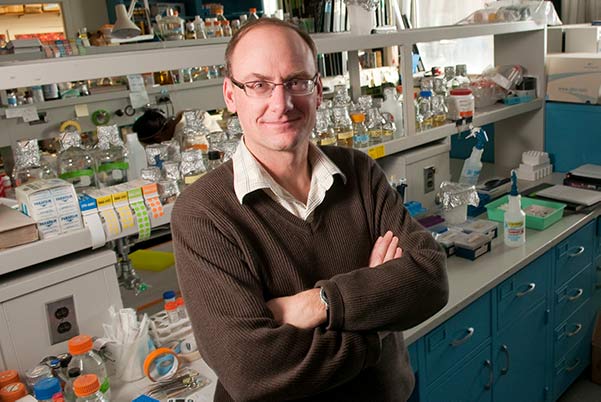 "Professor Howe has made important contributions to our understanding of the complex biochemical mechanisms through which plants respond to challenges such as insect attack," said Stephen Hsu, senior vice president for research and innovation at MSU. "His work informs fundamental questions in biology—such as the evolutionary trade-off between defense and growth—that are relevant to all organisms, and also has applications to practical problems such as sustainable agriculture. Michigan State University is very proud of his accomplishments."
Howe, a University Distinguished Professor, MSU Foundation Professor and a member of both the MSU-DOE Plant Research Laboratory (PRL) and the Plant Resilience Institute, is an internationally recognized leader in research on plant hormone biology and plant-insect interactions. He uses a combination of genetic, cell biological, molecular and biochemical analyses to study how plants use defensive compounds to protect themselves against herbivorous insects. His many honors and awards include selection as a fellow of American Association for the Advancement of Science and the American Society of Plant Biologists, and being named a Clarivate Analytics Highly Cited Researcher for the past six years.
"I am greatly honored to be elected into the National Academy of Sciences," said Howe, who also a professor in the Department of Biochemistry and Molecular Biology in the MSU College of Natural Science and an MSU AgBioResearch scientist. "This recognition reflects the combined efforts of many talented students and collaborators over the years. I am also grateful for the very supportive research environment and terrific colleagues at MSU."
"We are delighted about Gregg Howe's election to the National Academy of Sciences," said Christoph Benning, PRL director. "He has made outstanding contributions to science and the MSU community since his arrival here in 1997, and I congratulate him on behalf of the entire PRL community."
This year's election brings the total number of active NAS members to 2,403 and the total number of international members to 501. International members are nonvoting members of the academy, with citizenship outside the United States.
For a complete list of the 2020 NAS cohort (available in July), visit http://www.nasonline.org/news-and-multimedia/news/2020-nas-election.html.
---
By Val Osowski, Igor Houwat; Banner image by Anthony Schilmiller