Postdoc James Santiago accepts new job at Soli Organic
James Santiago, postdoc in the Sharkey lab at the MSU-DOE Plant Research Laboratory (PRL) has accepted a new position as a R&D plant physiologist at Soli Organic, a culinary herb company based in Harrisonburg, Virginia.
James joined Tom Sharkey's lab in March 2018, after finishing his Ph.D. in molecular plant sciences at Washington State University. His research looks at how high temperatures affects pollen production in common beans.
While in the Sharkey lab, James worked with other MSU researchers to develop the first single-nuclei RNA sequencing project at the university. He worked alongside Robin Buell from the Department of Plant Biology and Robert VanBuren from the Plant Resilience Institute, who will continue the project.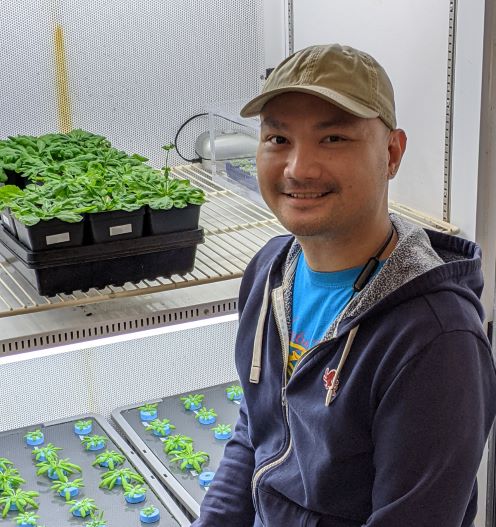 "I really love that in the PRL and at MSU we have a big and collaborative plant science community, which is an excellent resource for an early career scientist like me," James said. "Being here made me a better scientist by being a better thinker and more independent researcher, which would help any other early career researcher to land a faculty or industry position. The PRL pushes people to become better scientists, and that is what happened to me and for that I am very grateful to this department and to Tom."
At Soli Organic, James will be evaluating plant growth and nutrition to further improve the production practices currently used by the company.
"It is sad to see him go, but his permanent research position will allow him to improve crop growth and nutrition by applying the knowledge and skills he learned in all his positions up to now," said Tom Sharkey, primary investigator in the Sharkey lab and University Distinguished Professor in the Department of Biochemistry and Molecular Biology. "Helping people get the kind of job James will go to is one purpose of the university, and so the sadness to see him leave is balanced by the pride in his success."
Christoph Benning, director of the PRL, added, "Dr. Santiago has genuinely impressed me with his managerial potential in his role as postdoctoral representative on the PRL Academic Personnel Council, an important skill in his new position. I very much enjoyed working with him and I am confident that he will succeed in his new position and wish him all the best for his future career."
James has a bachelor's degree in agriculture and horticulture from the University of the Philippines at Los Baños and his master's degree in horticulture from the University of Maine.
---
By Kara Headley