PRL community celebrates research at 2021 retreat event
Release Date: Nov 2, 2021
Tags:events
For the first time in two years, the MSU-DOE Plant Research Laboratory (PRL) community gathered to share the exciting research conducted by the different groups at the 2021 PRL Retreat.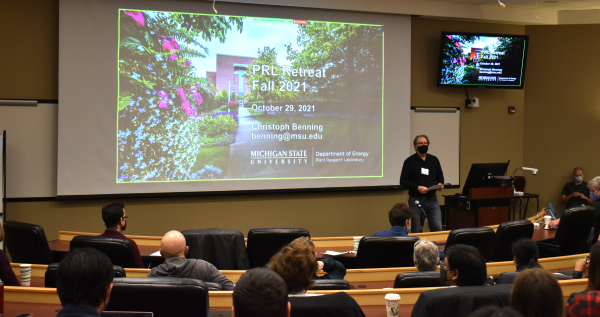 The event featured 35-minute presentations from eleven labs and two research assistant professors. This showcased only some of the research conducted in the labs over the last two years.
"It felt good to see everyone in person at a retreat after a two-year hiatus," said Christoph Benning, director of the PRL. "The retreat helped all of us reconnect and see the bigger picture. There really is no substitute for hearing about exciting new science in-person and being able to continue to discuss science over a meal or interacting at posters. I would like to thank all participants and especially those who made the retreat possible."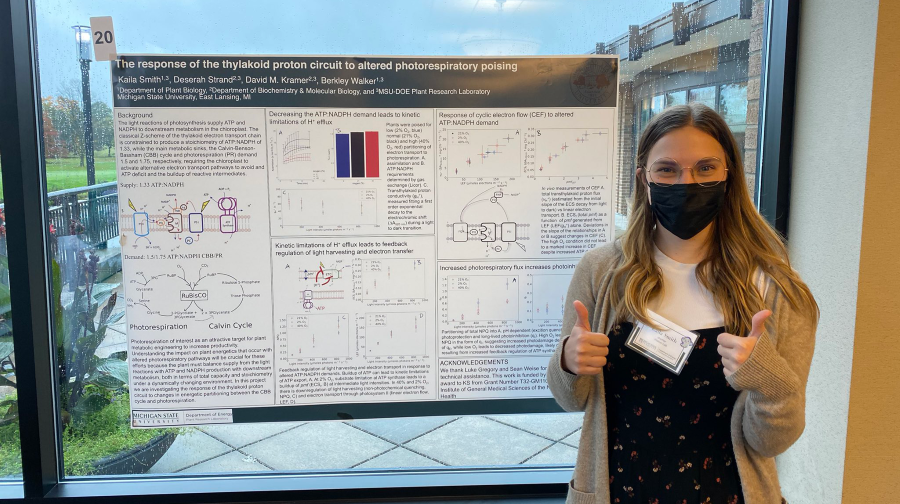 In between presentation blocks, poster talks were given by postdocs and graduate students. They presented their research by giving two-to-three minute "elevator pitches," and the community voted on the poster and presenter they found the most engaging and enlightening.
Kaila Smith, a graduate student in the Plant Biology program from Berkley Walker's lab took home first place for her poster, "The response of the thylakoid proton circuit to altered photorespiratory poising."
"I didn't realize how much I missed the PRL community until we were back together," said Berkley Walker, assistant professor at the PRL and chair of the organizing committee. "It was exciting to see all the work that each lab has been getting done in the last few years and to imagine future collaborations. It was especially satisfying to see members of the PRL, who joined during the COVID pandemic, interact with the broader community for the first time."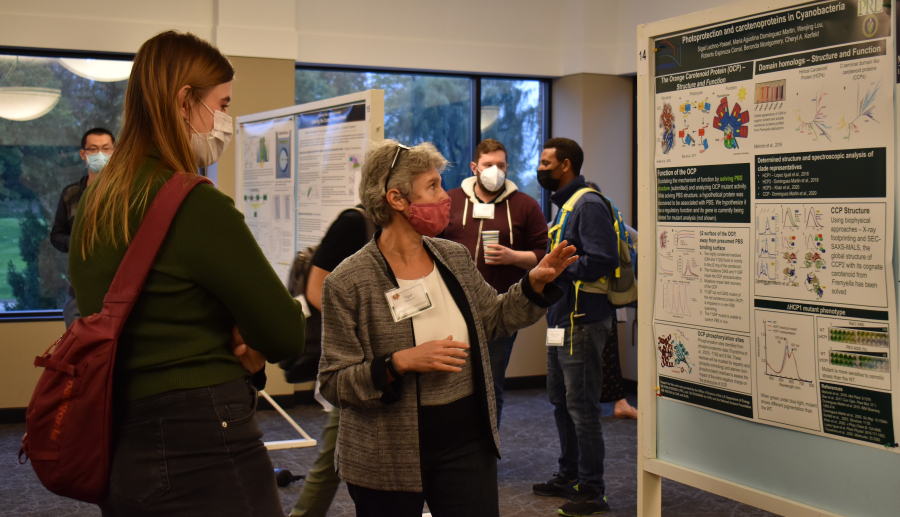 The night ended with a Halloween costume contest where members of the community were invited to bring out their best looks. Joanne Thomson, graduate student in the Cell & Molecular Biology Program from Federica Brandizzi's lab, won the contest with her alien costume.
The retreat took place on October 29, 2021, at the MSU Henry Center for Executive Development.
Photos from the event can be found on Flickr.
---
By Kara Headley; Banner image by Kara Headley