PsoR: How cyanobacteria change their colors
Similar to how chameleons can change colors to blend into their surroundings, cyanobacteria can tune their coloring to better absorb light in different environments.
Some cyanobacteria – photosynthetic bacteria of great interest in biofuel production – contain a gene known as PsoR. Researchers from the Montgomery lab study one species of cyanobacteria where PsoR is present and this strain is capable of changing its color. One question that the lab is pursuing is whether PsoR has a role in the organism's ability to survive under certain light conditions.
This research was published in Microbiology Research in April 2022.
First author of this study Alicia Layer is a graduate student in Beronda Montgomery's lab at the MSU-DOE Plant Research Laboratory (PRL) and in the Microbiology and Molecular Genetics program. This research encompasses her thesis work.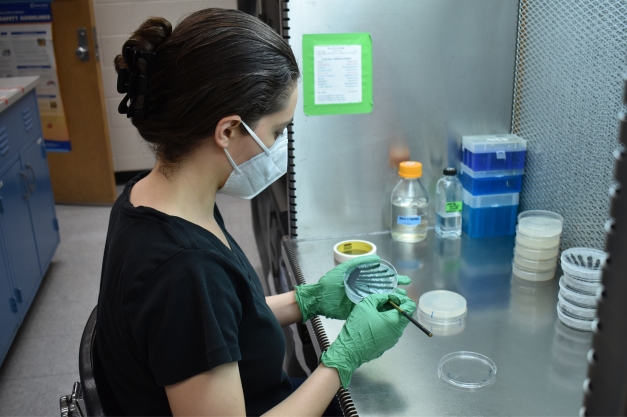 During the pandemic lockdown, Alicia found herself without a lab to use. She shifted her project and came up with research she could do from home.
Alicia utilized the National Center for Biotechnology Information (NCBI) online database and searched for the cyanobacteria species that contain the PsoR gene. She looked at hundreds of data points, theorizing why some groups contained the gene and others were lacking.
"Cyanobacteria are of great interest right now for producing biofuels and making natural food pigments with health benefits," Alicia said. "Understanding how we can tune cyanobacteria to better absorb light from their environment and push that into the production of biofuels is really helpful. Knowing how photosynthesis is run by cyanobacteria might help us tweak things and push them to be more productive and survive in particular environmental conditions."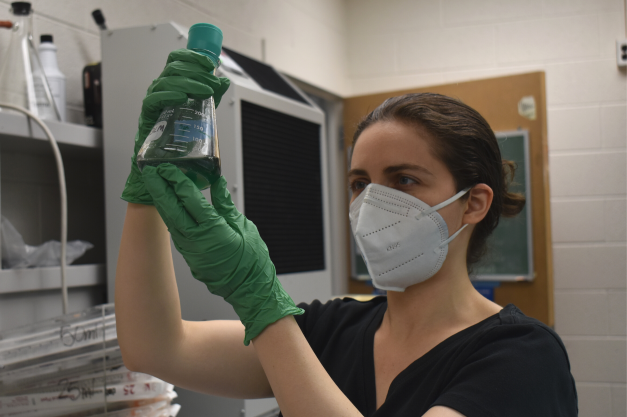 Alicia is looking to a future where cyanobacteria-based biofuels are a viable and plentiful alternative energy option.
"Having these little light absorbing, energy producing organisms and the benefits that come from them is fascinating to me," she said.
Christoph Benning, director of the PRL, added, "This work is another excellent example of how to meaningfully mine the wealth of available genomic data to come up with meaningful biological conclusions and hypotheses. During 2020, when access to wet lab space had to be limited due to the emerging pandemic, students and their mentors had to come up with alternative ways to conduct their research from their home offices. The paper represents significant new insights into the evolution of the switch controlling color adaptation in cyanobacteria in response to different light conditions, and I congratulate Alicia and Beronda on their accomplishment."
This research was supported by the National Science Foundation (MCB-1243983), the Department of Energy, Basic Energy Sciences Division (Grant: DE-FG02-91ER20021) and the Michigan State University Foundation.
---
By Kara Headley; Banner image by Kara Headley