Sarathi Weraduwage accepts new position as assistant professor at Bishop's University
Release Date: Jun 7, 2022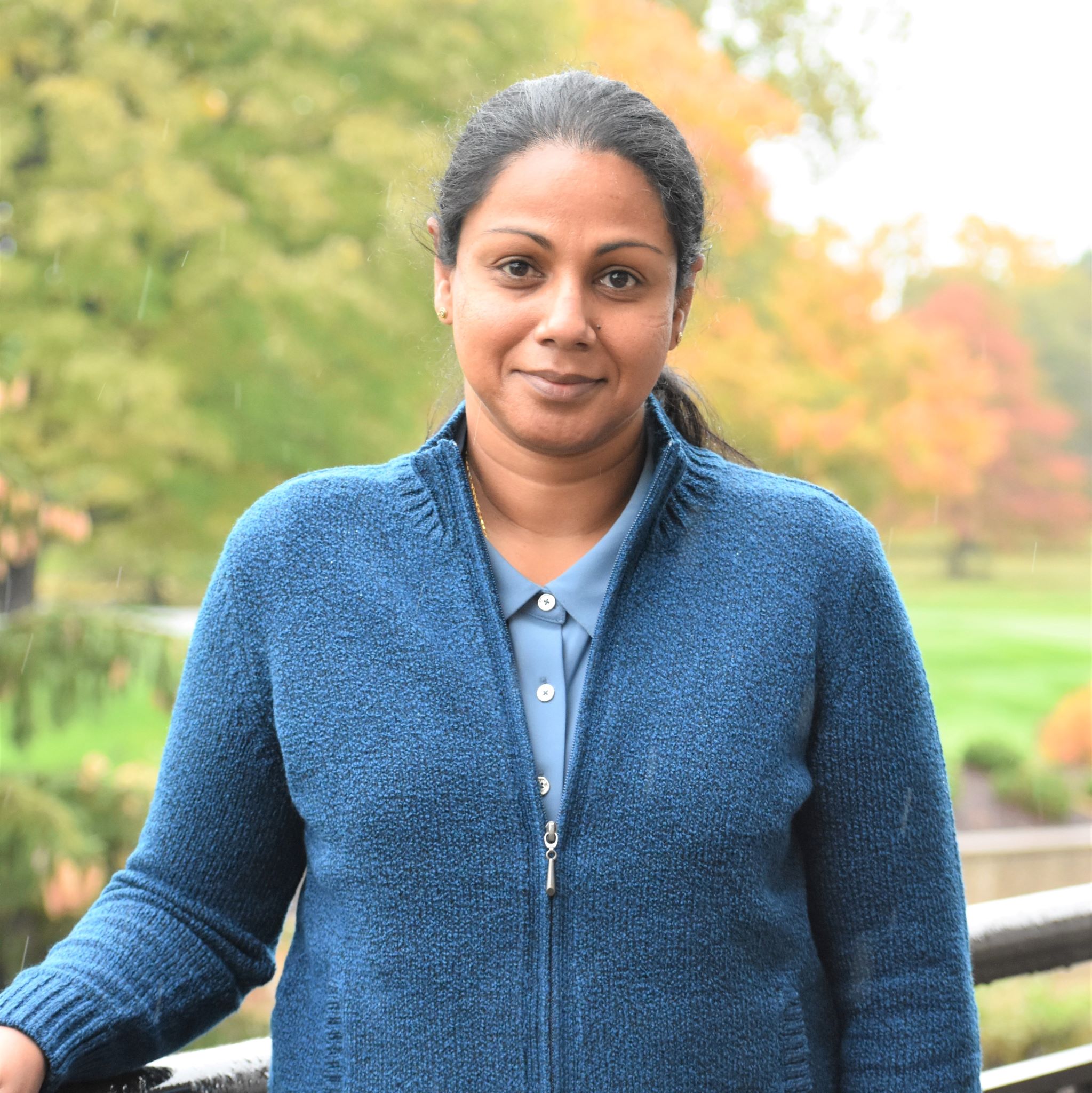 Research Assistant Professor Sarathi Weraduwage from the Sharkey lab at the MSU-DOE Plant Research Laboratory (PRL) has accepted a new position as a tenure-track assistant professor at Bishop's University in Sherbrooke, Quebec.
Sarathi joined University Distinguished Professor Thomas Sharkey's lab at the PRL and the Department of Biochemistry and Molecular Biology (BMB) in December of 2013 as a postdoctoral researcher. She was promoted to her current role as a research assistant professor in 2019. Her new role at Bishop's University will give her opportunities to continue her research, teach and mentor undergraduate students and participate in and develop outreach efforts.
Throughout her years working in the Sharkey lab, Sarathi was presented with many opportunities to collaborate on research with other labs within the PRL.
"The collaborative spirit here and the expertise that all the faculty members bring really helped me to grow as a scientist," Sarathi said. "As soon as I joined the PRL, Tom [Sharkey] helped me network with all the faculty members and gave me a lot of opportunities to participate in different research projects, which helped me develop my research career.
"Tom has been a wonderful mentor and advisor to me throughout the years," she added. "I am really grateful; he played a big role in my academic and research career."
Sarathi has been an integral part of the Sharkey lab for many years.
"In her nearly eight and a half years in my lab, Sarathi carried out research on a range of topics and developed important new methods in the lab," Tom said. "She also mentored many people from undergraduates to visiting professors. Sarathi was extraordinarily productive in both quality and quantity of her publications. Her mentoring was very effective. It will be hard to say goodbye, but I am happy for her success and wish her the best as she begins this new position."
At Bishop's University, Sarathi will continue her research as well as teach undergraduate courses in cellular and molecular biology, plant bioinformatics and a plant biochemistry course that will focus on how plant products are beneficial to human health and nutrition. She will also design her own plant biotechnology course on improving crops to face challenges posed by climate change.
"I am most looking forward to designing a plant biology research program at Bishop's University," Sarathi said. "Currently, the university does not have a plant biology research program, so it's up to me to design it. That's a big challenge, and I am really looking forward to it."
Sarathi has been a large proponent of PRL outreach and Diversity, Equity and Inclusion (DEI) efforts throughout the years. She was the ambassador of the PRL to the College of Natural Science Diversity, Equity and Inclusion Advisory Committee (DEIAC) for two years. In 2021, she helped develop the PRL Community Building and Outreach Committee, which organizes outreach events and participates in the DEIAC discussions.
In her new position at Bishop's University, Sarathi will continue her DEI outreach work. She is looking to develop outreach events that will enrich the learning experience and promote enthusiasm in STEM among students of disadvantaged communities, develop accessible coursework and initiate students to start a plant biology research club.
"I want to mention Christoph [Benning, director of the PRL], who gave me the responsibility to be the representative for the PRL to the for DEIAC," Sarathi said. "He gave me the resources and freedom I needed to carry out outreach work within the PRL. I am really grateful to Christoph for the support he gave to me and to the current DEI committee. I also wish to express my heartfelt gratitude to all faculty members of the PRL for supporting the DEI initiatives. "
Christoph Benning added, "Sarathi is not only an excellent scientist and a great mentor and teacher, but she has also helped in evolving activities at the PRL to raise diversity, equity and inclusion to the next level. It has been my pleasure to work with her and be inspired by her, and I would like to thank Sarathi for her community building efforts. On behalf of all at the PRL, I wish her all the best in her next professional endeavors."
---
By Kara Headley